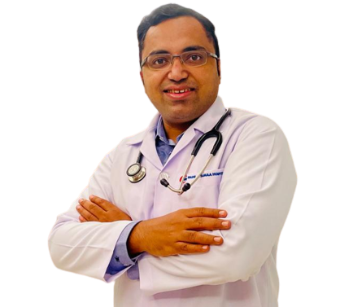 Dr Regi Varghese John
Specialist Internist
Internal Medicine
MBBS, MD (Internal Medicine)
7 years of experience
Barka (Oman)
About Dr Regi Varghese John
Dr. Regi John is a well experienced Consultant in Internal Medicine working in the Intensive Care Unit, since the last 5 years. He has been trained with special skills and expertise in all ICU procedures, namely in central lines, advanced access, airway, ventilator management, non-invasive ventilatory supports, high flow nasal oxygen supports and complicated airway management, tracheostomy, intra arterial balloon pump (IABP), haemodialysis catheter, haemodialysis assistance and cytosorb dialysis. He is also trained in different ICU subdivisions including Surgical ICU, Cardiac ICU, Neuro surgical ICU, Acute Stroke and Neurological ICU, Obstetrics & Gyanecology ICU with rotator postings in the same. 
Excellence & Experience
Area of excellence
Central Lines
Advanced Access
Airway
Ventilator Management
Non-Invasive Ventilator Supports
High Flow Nasal Oxygen Supports and complicated Airway management
Intra Arterial Balloon Pump (IABP)
Haemodialysis Catheter
Haemodialysis assistance and Cytosorb Dialysis
Level of Experience
He has worked as Consultant in Internal Medicine in prestigious institutions in India and abroad before coming to Oman.
Awards & Academics
Academics Details
Fellowship in Nephrology by ISN; Apex Kidney Foundation, India (2014)
MD (General Medicine); MGM University of Health Sciences, Mumbai India (2012)
MBBS; Maharashtra University of Health Sciences, India (2007)
Out Patient Timings
The outpatient timings at Badr Al Samaa Hospitals have been planned in such a way that your choice of doctor is available whenever you are free.
Sunday
9:00 AM - 1:00 PM
Barka - Oman
5:00 PM - 9:00 PM
Barka - Oman
Monday
9:00 AM - 1:00 PM
Barka - Oman
5:00 PM - 9:00 PM
Barka - Oman
Tuesday
9:00 AM - 1:00 PM
Barka - Oman
5:00 PM - 9:00 PM
Barka - Oman
Wednesday
Thursday
9:00 AM - 1:00 PM
Barka - Oman
5:00 PM - 9:00 PM
Barka - Oman
Friday
9:00 AM - 1:00 PM
Barka - Oman
5:00 PM - 9:00 PM
Barka - Oman
Saturday
9:00 AM - 1:00 PM
Barka - Oman
5:00 PM - 9:00 PM
Barka - Oman