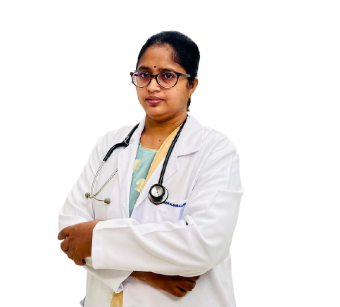 Dr Padma K
Specialist Radiologist
Radiology
MD, DNB (Radiodiagnosis)
7 years of experience
Barka (Oman)
About Dr Padma K
Dr. K Padma is an expert Diagnostic Radiologist having more than 7 years experience in her chosen field of expertise. She is very efficient in reporting various types of scan reports including reporting on MRI and CT findings. She is interested in continuous medical education by attending CMEs and conferences regularly and keeps herself updated with recent advancements.

Excellence & Experience
Area of excellence
Ultrasound – General, High Resolution and Doppler
Obstetric Ultrasound – Anomaly and NT Scan
General and Contrast Radiography
All types of Gynaecology cases including Follicular Study
Mammogram
Interventional Procedures like Ultrasound Guided Biopsy
CT Reporting
MRI Reporting – Brain, Spine and MSK
Level of Experience
She has worked as Consultant Radiologist in prestigious institutions and scan centers in India
Awards & Academics
Academics Details
MBBS; Dr NTR University of Health Sciences, Andhra Medical College, Vishakapatnam, Andhra Pradesh, India (2007)
MD (Radiodiagnosis); Dr NTR University of Health Sciences, Rangaraya Medical College and Government General Hospital, Kakinada, Andhra Pradesh, India (2015)
DNB (Radiodiagnosis); National Board of Examinations (2020)
Out Patient Timings
The outpatient timings at Badr Al Samaa Hospitals have been planned in such a way that your choice of doctor is available whenever you are free.
Sunday
Monday
9:00 AM - 1:00 PM
Barka - Oman
5:00 PM - 9:00 PM
Barka - Oman
Tuesday
9:00 AM - 1:00 PM
Barka - Oman
5:00 PM - 9:00 PM
Barka - Oman
Wednesday
9:00 AM - 1:00 PM
Barka - Oman
5:00 PM - 9:00 PM
Barka - Oman
Thursday
9:00 AM - 1:00 PM
Barka - Oman
5:00 PM - 9:00 PM
Barka - Oman
Friday
9:00 AM - 1:00 PM
Barka - Oman
5:00 PM - 9:00 PM
Barka - Oman
Saturday
9:00 AM - 1:00 PM
Barka - Oman
5:00 PM - 9:00 PM
Barka - Oman