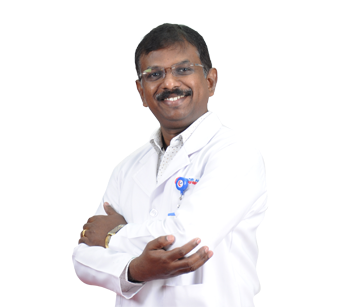 DR Ilan A Chezhian
Specialist Orthopaedic Surgeon
Orthopaedics
MBBS, D (Ortho)
22 years of experience
Barka (Oman)
About DR Ilan A Chezhian
Dr Ilan chezhian is an outstanding Specialist Orthopaedic Surgeon with vast experience in managing trauma, complicated and old orthopaedic cases. He has many success stories behind him, having mastered minimally invasive arthroplasty surgeries, arthroscopy, sports injuries, and paediatric and spine cases. His skills are a boon to the Emergency section of the hospital as he excels in trauma and poly-trauma cases. He was been part of many health screening and educational camps in India and Oman. He has attended many conferences to stay updated with the latest technology and is on the board of many prestigious societies and organisations.
Excellence & Experience
Area of excellence
All poly-trauma cases
Sports Medicine
Joint Replacement & Arthroscopic Surgeries
Revision Arthroscopic surgeries
Level of Experience
Worked in various corporate hospitals in India
Worked in Trauma Care (Poly-Trauma Unit) for more than 10 years
Worked in Arthroplasty Unit for more than 10 years
Awards & Academics
Academics Details
MBBS - Govt. Stanley Medical College - 1995
D. Ortho - Government Kilpauk Medical College - 1999
DNB Training - Government Kilpauk Medical College - 2001
Videos of DR Ilan A Chezhian
You can get to know more details here about the doctor who will be treating you, and their professional expertise in their field of specialisation.
Out Patient Timings
The outpatient timings at Badr Al Samaa Hospitals have been planned in such a way that your choice of doctor is available whenever you are free.
Sunday
9:00 AM - 1:00 PM
Barka - Oman
5:00 PM - 9:00 PM
Barka - Oman
Monday
9:00 AM - 1:00 PM
Barka - Oman
5:00 PM - 9:00 PM
Barka - Oman
Tuesday
9:00 AM - 1:00 PM
Barka - Oman
5:00 PM - 9:00 PM
Barka - Oman
Wednesday
9:00 AM - 1:00 PM
Barka - Oman
5:00 PM - 9:00 PM
Barka - Oman
Thursday
Friday
9:00 AM - 1:00 PM
Barka - Oman
5:00 PM - 9:00 PM
Barka - Oman
Saturday
9:00 AM - 1:00 PM
Barka - Oman
5:00 PM - 9:00 PM
Barka - Oman