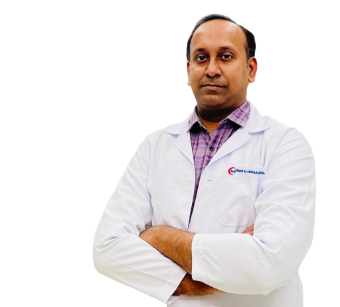 Dr Koneru Naga Shiva Chaitanya
Specialist Radiologist
Radiology
DNB (Radiodiagnosis), DMR Fellowship
10 years of experience
Barka (Oman)
About Dr Koneru Naga Shiva Chaitanya
Dr. Naga Shiva Chaitanya is a Specialist Radiologist with a primary interest in neuroradiology and musculoskeletal radiology. He has over ten years of excellent experience in reporting MRI and CT images, which is his primary focus. He is also adept at body imaging and ultrasonographic studies. Aside from his diagnostic ability, his empathetic approach towards patients reflects in his excellent management of patients. Dr. Naga Shiva Chaitanya also has multiple publications in journals to his credit and regularly attends radiology workshops and CMEs to update his skills.

Excellence & Experience
Area of excellence
Ultrasound
Cross Sectional and Body Imaging
Musculoskeletal Imaging
Neuro-Radiology
Level of Experience
He has worked as Consultant Radiologist in prestigious institutions in India.
Awards & Academics
Academics Details
DNB Radiology; Krishna Institute of Medical Sciences, Hyderabad, Telangana, India (2013)
MBBS; Prathima Institute of Medical Sciences, Karimnagar, Telangana, India (2008)
Fellowship in Diagnostic Musculoskeletal Radiology
Out Patient Timings
The outpatient timings at Badr Al Samaa Hospitals have been planned in such a way that your choice of doctor is available whenever you are free.
Sunday
8:00 AM - 12:00 PM
Barka - Oman
4:00 PM - 8:00 PM
Barka - Oman
Monday
8:00 AM - 12:00 PM
Barka - Oman
4:00 PM - 8:00 PM
Barka - Oman
Tuesday
8:00 AM - 12:00 PM
Barka - Oman
4:00 PM - 8:00 PM
Barka - Oman
Wednesday
8:00 AM - 12:00 PM
Barka - Oman
4:00 PM - 8:00 PM
Barka - Oman
Thursday
8:00 AM - 12:00 PM
Barka - Oman
4:00 PM - 8:00 PM
Barka - Oman
Friday
Saturday
8:00 AM - 12:00 PM
Barka - Oman
4:00 PM - 8:00 PM
Barka - Oman