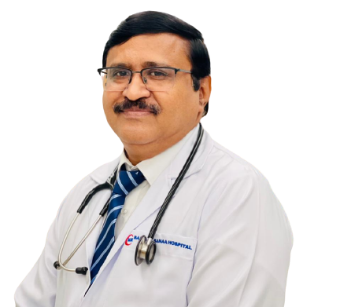 Dr Sampath Kumar Poral
Senior Consultant – General & Laparoscopic Surgery
General & Laparoscopic Surgery
MBBS, MS (General Surgery), MRCS, FIAGES, FMAS, FALS
24 years of experience
Barka (Oman)
About Dr Sampath Kumar Poral
Dr. Sampath Kumar Poral has 22 years of experience in general and laparoscopic surgery. He has begun his career as teaching and practicing surgeon in Medical College to level of professor grade. He has worked in Oman initially at Badr Al Samaa Hospitals for 4 years and later as specialist surgeon in Armed Force Hospital for 5 years and rejoined as consulting surgeon with us. He has vast clinical experience in various surgical procedures and specially interested in laparoscopic surgery. He has attended many surgical workshops national and international level conferences, presented papers, published papers in journals and have many fellowships to his credits.

Excellence & Experience
Area of excellence
Expert in all types of general surgical procedures including GI Surgeries, Hernia Surgery, Surgery of Thyroid and Breast conditions, Varicose Vein surgery.
Performs Diagnostic Endoscopies and Minor Endoscopic procedures.
Special interest in Laparoscopic procedures on Appendix and Gall Bladder, Adhesion release, Inguinal and Abdominal Wall Hernias.
Level of Experience
He is a Professor in Department of Surgery at Pondicherry Institute of Medical Sciences, Pondicherry, India.
He is consultant Surgeon at Badr Al Samaa Hospitals, Al Khoud and Barka, Sultanate of Oman.
He is grade 4 Specialist Surgeon at Armed Force Hospital, Al Khoud, Ministry of Defence, Muscat.
Awards & Academics
Academics Details
MBBS; JJM Medical College, Mysore University Davangere, Karnataka, India (1992)
MS (General Surgery); Govt. Medical College, Bellary, Gulbarga University (1998)
MRCS; Royal College of Surgeons, England (2014)
Diploma in Laparoscopic Surgery; IILS-VG Hospital, Coimbatore, India (2008)
Fellow of Indian Association of Gastro-endoscopic Surgeons (FIAGES) (2010)
Fellow of Minimal Access Surgery (FMAS) (2015)
Fellowship in Advanced Colorectal and Hernia Laparoscopic Surgery(FALS) (2021)
Out Patient Timings
The outpatient timings at Badr Al Samaa Hospitals have been planned in such a way that your choice of doctor is available whenever you are free.
Sunday
9:00 AM - 1:00 PM
Barka - Oman
5:00 PM - 9:00 PM
Barka - Oman
Monday
9:00 AM - 1:00 PM
Barka - Oman
5:00 PM - 9:00 PM
Barka - Oman
Tuesday
9:00 AM - 1:00 PM
Barka - Oman
5:00 PM - 9:00 PM
Barka - Oman
Wednesday
9:00 AM - 1:00 PM
Barka - Oman
5:00 PM - 9:00 PM
Barka - Oman
Thursday
9:00 AM - 1:00 PM
Barka - Oman
5:00 PM - 9:00 PM
Barka - Oman
Friday
9:00 AM - 1:00 PM
Barka - Oman
5:00 PM - 9:00 PM
Barka - Oman
Saturday
9:00 AM - 1:00 PM
Barka - Oman
5:00 PM - 9:00 PM
Barka - Oman