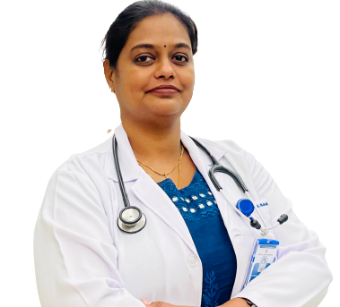 Dr Abirami Balasubramanian
Specialist Gynaecologist
Obstetrics & Gynaecology
MBBS, MS
11 years of experience
Barka (Oman)
About Dr Abirami Balasubramanian
Dr Abirami Balasubramanian worked as gynaecologist for many years with work experience in Antenatal Care and Labour    management with special emphasis on High Risk Pregnancy Care and Labour. She has attended multiple Gynaecology Laparoscopic Surgeries and Hysteroscopy surgeries. She has special interest in diagnostic laparoscopic workup in Infertility cases. She has done multiple HSG, IUI, Follicular monitoring and Gynaec Ultrasonography.
She has special interest in obstetric Ultrasonography and Fetal ECHO. She is the member of FMF -UK, ISUOG and IOTA. She presented papers and posters in multiple national conferences like ISAR, ACE, ADVANCES and in magazines with special emphasis on Male infertility, PCOS, IUI and ODP-ICSI programs.

Excellence & Experience
Area of excellence
Normal Pregnancy Care
Labour High Risk Pregnancies
Reproductive Medicine – Infertility Gynecological Surgeries
Adolescent Gynecology
Level of Experience
She has worked in many corporate hospitals in India.
Awards & Academics
Academics Details
MBBS; Rajiv Gandhi University of Health Science, Karnataka, India (2003)
MS (Obstetrics & Gynaecology); Kasturba Medical College; Manipal University, India (2012)
One year Fellowship in Advanced Ultrasonography in Obstetrics/ Gynaecology- MEDISCAN Chennai, India
Fellowship in Laparoscopy and Hysteroscopy
One year Fellowship in Reproductive Medicine (Infertility)
Out Patient Timings
The outpatient timings at Badr Al Samaa Hospitals have been planned in such a way that your choice of doctor is available whenever you are free.
Sunday
Monday
9:00 AM - 1:00 PM
Barka - Oman
5:00 PM - 9:00 PM
Barka - Oman
Tuesday
9:00 AM - 1:00 PM
Barka - Oman
5:00 PM - 9:00 PM
Barka - Oman
Wednesday
9:00 AM - 1:00 PM
Barka - Oman
5:00 PM - 9:00 PM
Barka - Oman
Thursday
9:00 AM - 1:00 PM
Barka - Oman
5:00 PM - 9:00 PM
Barka - Oman
Friday
9:00 AM - 1:00 PM
Barka - Oman
5:00 PM - 9:00 PM
Barka - Oman
Saturday
9:00 AM - 1:00 PM
Barka - Oman
5:00 PM - 9:00 PM
Barka - Oman