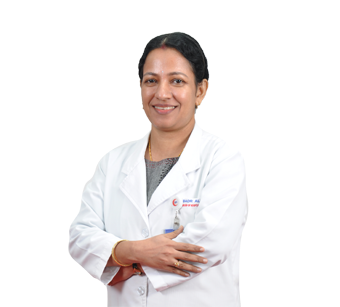 DR LASHPA E
Specialist Dermatologist
Dermatology
MBBS, MD (Dermatology)
12 years of experience
Barka (Oman)
About DR LASHPA E
Dr Lashpa is an excellent dermatologist with more than 10 years of experience in treating various skin diseases such as eczema, psoriasis, dermatitis, hair and nail diseases. Her areas of interest include minor skin surgeries as well as cosmetic procedures. She is an expert in dealing with cosmetically acceptable and complication-free therapeutic and diagnostic techniques. These include skin biopsies, electro-surgery, mole and corn removal and enucleation of cysts and superficial lipomas. Her skills also include intralesional injections like Botox for hyperhidrosis, intralesional steroid injections as well as anti-ageing skin treatments.
Excellence & Experience
Area of excellence
Skin Surgeries including Cosmetic Procedures
Level of Experience
Worked in Government and Private sectors in Kerala before moving to Oman in 2009
Working for the past 9 years in Badr Al Samaa, Barka branch as Specialist Dermatologist
Awards & Academics
Academics Details
MD (Dermatology, Venerology and Leprosy) - Government Medical College, Kottayam – 2006
Professional Diploma in Anti-Aging Program in Aesthetic Medicine - The American International Institute of Training and Accreditation
MBBS - Government Medical College, Kozhikode - 2001
Out Patient Timings
The outpatient timings at Badr Al Samaa Hospitals have been planned in such a way that your choice of doctor is available whenever you are free.
Sunday
9:00 AM - 1:00 PM
Barka - Oman
5:00 PM - 9:00 PM
Barka - Oman
Monday
9:00 AM - 1:00 PM
Barka - Oman
5:00 PM - 9:00 PM
Barka - Oman
Tuesday
9:00 AM - 1:00 PM
Barka - Oman
5:00 PM - 9:00 PM
Barka - Oman
Wednesday
9:00 AM - 1:00 PM
Barka - Oman
5:00 PM - 9:00 PM
Barka - Oman
Thursday
9:00 AM - 1:00 PM
Barka - Oman
5:00 PM - 9:00 PM
Barka - Oman
Friday
Saturday
9:00 AM - 1:00 PM
Barka - Oman
5:00 PM - 9:00 PM
Barka - Oman