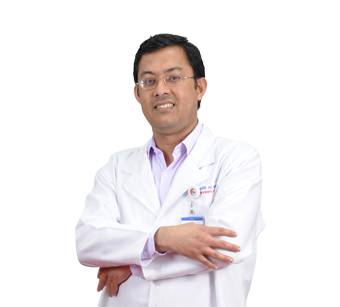 DR MAHMUD RIAD
General Surgeon
General & Laparoscopic Surgery
MBBS, MRCS
Barka (Oman)
About DR MAHMUD RIAD
Dr Mahmud Riad is an excellent General Surgeon who specializes in evaluating and treating a variety of conditions and diseases that require surgical treatment. He has also undergone specialized training in Causality Surgery in England which enriched his range of knowledge and skills to deal with different kinds of surgical problems. Dr Mahmud has attended many surgical conferences and workshops to stay updated with the latest surgical know-how and has participated in various quality initiatives under the guidelines of the Joint Commission International (JCI) and BCPS (Bangladesh College of Physicians and Surgeons). He has also completed Intermediate skills training in Laparoscopic Surgery.

Excellence & Experience
Area of excellence
GI Perforation Surgery
Intestinal Obstruction Surgery
Gallbladder Surgery
Appendectomy
Various types of Hernia Surgeries
Piles, Fissure, Fistula Surgery
Hydrocoele and Varicocele Surgery
Breast Surgery
Level of Experience
Dr Mahmud Riad has served in The Square Hospitals Ltd in Bangladesh. He has also served as a Junior Consultant Surgeon under Ministry of Health, Bangladesh. He further underwent an Advanced Surgical Training in Singapore under Junior Health Service.
Awards & Academics
Academics Details
MRCS (England)
MBBS - Government Medical College, Dhaka, Bangladesh
Out Patient Timings
The outpatient timings at Badr Al Samaa Hospitals have been planned in such a way that your choice of doctor is available whenever you are free.
Sunday
9:00 AM - 1:00 PM
Barka - Oman
5:00 PM - 9:00 PM
Barka - Oman
Monday
9:00 AM - 1:00 PM
Barka - Oman
5:00 PM - 9:00 PM
Barka - Oman
Tuesday
9:00 AM - 1:00 PM
Barka - Oman
5:00 PM - 9:00 PM
Barka - Oman
Wednesday
9:00 AM - 1:00 PM
Barka - Oman
5:00 PM - 9:00 PM
Barka - Oman
Thursday
9:00 AM - 1:00 PM
Barka - Oman
5:00 PM - 9:00 PM
Barka - Oman
Friday
Saturday
9:00 AM - 1:00 PM
Barka - Oman
5:00 PM - 9:00 PM
Barka - Oman