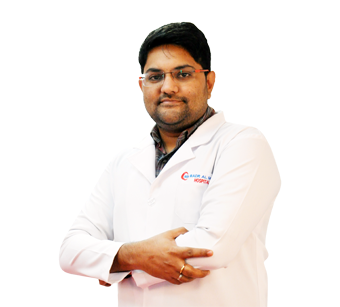 DR KARTHIK PRAKASH PATTI
Specialist Radiologist
Radiology
MBBS, MD
10 years of experience
Barka (Oman)
About DR KARTHIK PRAKASH PATTI
Dr Karthik Prakash Patti is a Specialist Radiologist with extensive experience in the latest diagnostic radiology technologies including ultrasound, CT and MRI. As a Clinical Radiologist, he diagnoses and manages a variety of medical conditions and diseases and provides specialist expertise towards all the cases he performs. He has a special interest in gastrointestinal, musculoskeletal and vascular imaging with vast experience in various kinds of Dopplers. He has attended various national and international conferences and workshops and has presented scientific papers in some of them.
Excellence & Experience
Area of excellence
Ultrasound scans including all USG-guided procedures
All doppler tests including arterial, venous, carotid and splenoportal doppler
CT and CT-guided Procedures/Biopsies
MRI
Level of Experience
Dr Karthik Prakash has served in various Super-Specialty Hospitals in India. He is well-versed in using the latest and advanced diagnostic technologies to handle all kinds of complicated cases.
Awards & Academics
Academics Details
Senior Residency – Nizam's Institute of Medical Sciences, Hyderabad
MD Radiodiagnosis - Dr NTR University of Health Science, Andhra Pradesh - 2015
MBBS - Dr. NTR University of Health Science, Andhra Pradesh - 2011
Out Patient Timings
The outpatient timings at Badr Al Samaa Hospitals have been planned in such a way that your choice of doctor is available whenever you are free.
Sunday
9:00 AM - 1:00 PM
Barka - Oman
5:00 PM - 9:00 PM
Barka - Oman
Monday
9:00 AM - 1:00 PM
Barka - Oman
5:00 PM - 9:00 PM
Barka - Oman
Tuesday
9:00 AM - 1:00 PM
Barka - Oman
5:00 PM - 9:00 PM
Barka - Oman
Wednesday
9:00 AM - 1:00 PM
Barka - Oman
5:00 PM - 9:00 PM
Barka - Oman
Thursday
9:00 AM - 1:00 PM
Barka - Oman
5:00 PM - 9:00 PM
Barka - Oman
Friday
Saturday
9:00 AM - 1:00 PM
Barka - Oman
5:00 PM - 9:00 PM
Barka - Oman