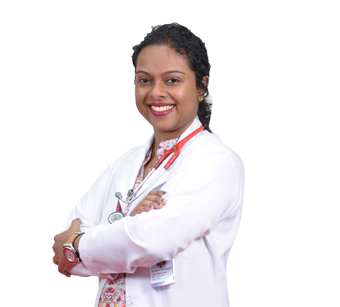 DR DHANYA SUDHEENDRAN
Specialist Paediatrician
Paediatrics & Neonatology
MBBS, DCH
11 years of experience
Barka (Oman)
About DR DHANYA SUDHEENDRAN
Dr Dhanya Sudheendran is trained in Pediatrics from the Madras Medical College, one of the most prestigious Child Care Institutes in the country with over 200,000 outpatients seen daily. These include patients under pediatric super-specialities like Pediatric Emergency, Neurology, Gastroenterology, Nephrology, Child Psychiatry, Pulmonology, Genetics, etc. Dr Dhanya is a highly experienced Pediatrician and Neonatologist capable of diagnosing and treating babies and children in emergency and non- emergency situations. She is extremely passionate about all aspects of child health, including vaccinations, nutrition, fitness, and child-specific illness. She regularly conducts awareness programs in Community Health Centers.
Excellence & Experience
Area of excellence
Neonatal Check (first baby check aged 1-15 days)
Jaundice Management
Vaccinations (review, advice and administration)
Neonatal Blood Screening
Feeding Advice and Management of Feeding Difficulties
Management of Reflux
Developmental Assessment
Breastfeeding and Child Nutrition
Weaning Practices
Respiratory Medicine
Level of Experience
She completed her Pediatrics and Neonatology residency training from Madras Medical College during which she was acknowledged as the best Pediatric Resident Doctor.
Prior to joining Badr Al Samaa in 2018, she worked as a Specialist Pediatrician in a tertiary care referral center for specialized pediatric care including intensive and neonatal care.
Apart from her clinical responsibilities as Pediatrician and Neonatologist, she is accredited and certified in Pediatric Advanced Life Support (PALS) and Neonatal Resuscitation Program (NRP).
Awards & Academics
Academics Details
MBBS - Madras Medical College, India - 2010
Postgraduate Diploma in Child Health (DCH) - JJM Medical College, Davangere, India - 2014
Out Patient Timings
The outpatient timings at Badr Al Samaa Hospitals have been planned in such a way that your choice of doctor is available whenever you are free.
Sunday
8:30 AM - 12:30 PM
Barka - Oman
4:30 PM - 8:30 PM
Barka - Oman
Monday
8:30 AM - 12:30 PM
Barka - Oman
4:30 PM - 8:30 PM
Barka - Oman
Tuesday
8:30 AM - 12:30 PM
Barka - Oman
4:30 PM - 8:30 PM
Barka - Oman
Wednesday
8:30 AM - 12:30 PM
Barka - Oman
4:30 PM - 8:30 PM
Barka - Oman
Thursday
8:30 AM - 12:30 PM
Barka - Oman
4:30 PM - 8:30 PM
Barka - Oman
Friday
Saturday
8:30 AM - 12:30 PM
Barka - Oman
4:30 PM - 8:30 PM
Barka - Oman